Compared with most churches in the UOCC, our parish is still quite young. Our church building was completed in 1991. But going back, the idea of creating St. Anthony's parish began in July of 1966 when Tekla Kurysh donated two acres of land in the western part of Edmonton. Prior to that happening there had been an idea circulating for some time about the need for another Ukrainian Orthodox church in the west end of Edmonton. It took a great deal of effort and resources to get organized, raise the funds and build our own church. The organizational or mission committee worked from 1966-1974 and consisted of Very Rev. Hryhorij Wasyliw, Dobr. Maria Wasyliw,Tillie Kurysh, land owner, Peter and Polly Germaniuk and Filmon Chalupa.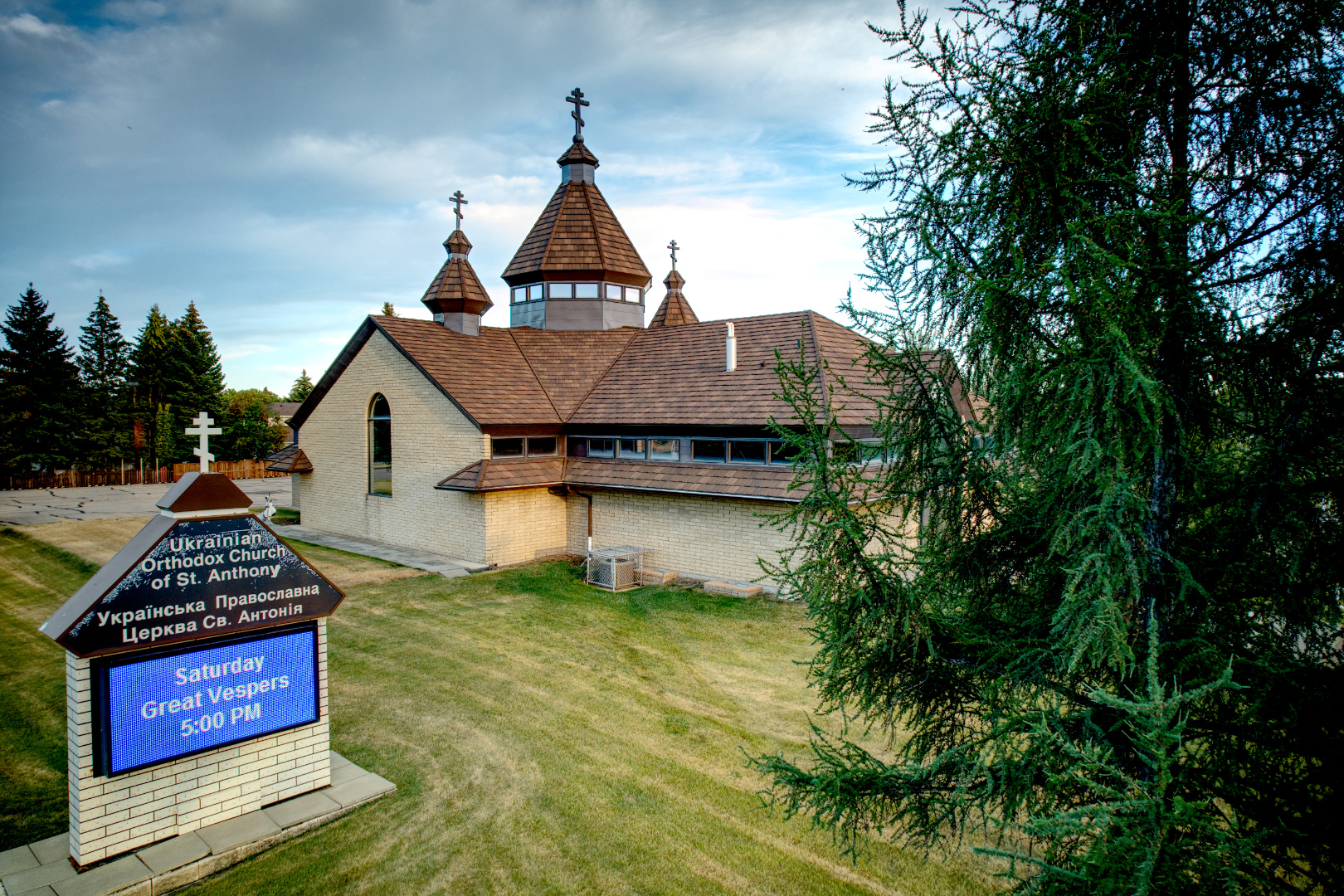 On September 25, 1974 the first steering/planning committee was elected to do the work that needed to be done to formally start a parish. We are thankful for the help provided by members of our sister parishes in this endeavour. This committee consisted of President Stephan Maslo from St. John's, secretary Nestor Chumik from St. John's, treasurer Alex Zwozdesky from St. Michael's, legal adviser Russell Dzenick from St. Andrew's, Fr.Hryhorji Wasyliw, semi-retired, acting priest, Archbishop Andrew Metiuk and land owner, Tillie Kurysh. The next day, on September 26, 1974, St. Anthony's was incorporated under the Religious Societies Land Act as a non-profit organization in Alberta. On October 7, 1974 our first membership fees were collected. Six members paid $10 each for a grand total of $60. On Dec. 20, 1974 St. Anthony's was incorporated as part of the Ukrainian Orthodox Church of Canada which means we officialy began our life as a parish that day.
In February of 1979 the first official Parish Board was elected. Fr. Hryhorji and Fr. Victor Lakusta were the acting priests. The first Divine Liturgy at St. Anthony's was celebrated on March 18, 1979 at Hillcrest School. Services were held in Hillcrest School and Our Lady of the Prairies School as well as at St. John's Institute. In 1984 Fr. Victor Lakusta became the full time priest at St. Anthony's.
There is a touching and interesting story about how St. Anthony's Church finally got built. It involves the spiritual leadership of Metropolitan Emeritus John and Fr. Alex Hupka, a priest who was looking forward to retirement. Our church needed to be built. You could say we were in overtime with the idea of building a church. But more time passed. Then Fr. Victor Lakusta was transferred to the Vancouver parish in 1989. Fr. Alex Hupka agreed to postpone his retirement and came to serve as the priest at St. Anthony's. More time passed. In serious discussions with Metropolitan Emeritus John, who, at that time was Archbishop of Edmonton, St. Anthony's wanted to apply for a mortgage to build a church. After listening to the pleas of the leaders of the parish, Metropolitan Emeritus John gave the blessing to go ahead and apply for a mortgage even though it was a risky venture from a financial standpoint because the membership was pretty small. There were 12 paid up members and a number of families attending services on a regular basis. Still more time passed. After much talk about planning to build present day St. Anthony's Church, Fr. Alex Hupka said it was time to act and get the job done. In his sincere but very direct way, he said he was going on vacation and upon his return, he was going to retire if there was no further action on actually building the church.
Four days before he returned from his vacation, a bulldozer was on site. Fr. Alex was delighted. The building committee consisting of Fred Holowach, Terry Tymchuk and Greg Michaleski worked tirelessly with the builder to ensure that everything was proceeding according to the plan. Our new church was finally completed in 1991. Our first Divine Liturgy in it was on March 3rd of that year. Fr. Alex stayed until 1992 before he retired for the second time.
In 1992, Fr. Andrew Jarmus became our priest and worked with us to continue building a strong, active parish. Those were the years when we had to do a great deal of fundraising to pay the mortgage, increase the membership and ensure that the parish was growing spiritually and was financially viable. Then in 1998 Fr. Andrew Jarmus was asked to provide leadership in the Missions and Education initiative at the Consistory office in Winnipeg. That same year, 1998, Fr Patrick Yamniuk became our parish priest.
Twelve years after our church was built we were able to pay off our mortgage. Our mortgage burning celebration was in 2002. Then we turned our attention to fundraising for our iconostasis. The icons for the iconostasis were written by Dobr. Kristi Jarmus and completed in 2005. Later, additional icons were added to our north and south walls. Another big project that was completed was the extension to our basement and the renovation of our kitchen. A very costly undertaking for us as well was the roof replacement in 2014 when the roof started to leak. In 2014, we also celebrated the 40th anniversary of St. Anthony's, a significant milestone for our parish.
With many of these costs behind us, we are now able to concentrate more on other projects and missions. We are focusing on improving the lives of the poor, orphaned and homeless as Christ asks us to do in Matthew 25:40 'Assuredly, I say to you, inasmuch as you did it to one of the least of these my brethren, you did it to me.' We also undertake projects that enable us to continue to look after our parish and help us in our spiritual journey. Engaging our youth in the life of the church has always been a big priority. We strive to have a Sunday School Program that is geared to pre-kindergarden and elementary grade students. A Youth Group is organized for the teenage group. Our children and teens are involved in initiatives that are of service to those in need. For example, they have put together mugs of joy for The Mustard Seed and donated toys to the children in Fort McMurray who lost theirs in the wildfire of 2016.
Other projects that we have been involved in include having one of the largest Food Bank depots in Edmonton for over 20 years. Boxes of food provided by the Food Bank are distributed to families in the neighbourhood each week from our church basement. For over ten years we have provided back to school backpacks filled with school supplies to the school age children of our Food Bank recipients in August along with a pizza supper. New and gently used clothing is usually distributed in November. We have also started to work with agencies such as the Hope Mission and The Mustard Seed. We contribute to the Orphanage Mission in Ukraine initiated by Bishop Ilarion. We participated in the Project Mexico homebuilding program for several years. Examples of other past projects that we supported locally are a donation to the Edmonton Police Service for the purchase of a helicopter, a donation to a community playground near our parish and assisting the family of Constable Daniel Woodall, an Edmonton policeman who was killed in action.
We have also supported Orthodox missions in places such as Guatemala, Tanzania, Kenya and Moldova. Several years ago we had a quilting project that allowed us to send beautiful homemade quilts, personal care kits and stuffed animals to orphans in Ukraine. These and many other projects such as supporting the rejuvenation of Camp Bar-V-Nok have been an important part of our parish work.
All of this work is possible because of three organizations at St. Anthony's working together on many common goals. They are the parish board, the St. Anna's Branch of the Ukrainian Women's Association of Canada and the Edmonton Carpathian Club, the fundraising arm of St. Anthony's.
May God grant us the strength and wisdom to continue this work now and in the future from generation to generation.